About
Learn More About
GSBHacks
We are dedicated to supporting women in STEM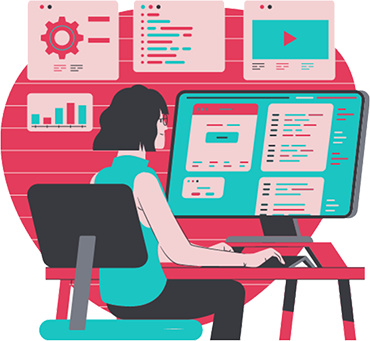 GSBHacks is a 24-hour, student-run virtual hackathon for girls, non-binary and trans inclusive. We strive to give you the experiences, connections, and resources to pursue the STEM career of your dreams. With our team of passionate high school students, we are fully committed to bridging the gender gap in STEM one student at a time.
This event is absolutely free with workshops and prizes included. We invite you to join us for 24 hours of inspiration and creation while you get the chance to develop your coding skills and network with girls with similar interests.
In the end, our mission is to inspire you to find and pursue your interests in STEM while exploring how your expertise can be applied in the real world.
Learn More
Want to be a GSBHacks Ambassador?
Looking for a low time-commitment extracurricular this summer? Apply to be an ambassador for GSBHacks with no previous hackathon or coding experience required. We are looking for young women in middle school, high school, and college who are enthusiastic about empowering women in STEM!
The application is quick and easy! Learn more about the program here. The deadline to apply is July 20, 2021.
Apply here
Themes
The Pillars of
GSBHacks
Use these themes and questions to think of ideas for your project!
Female Empowerment
How can you use technology to foster strong connections between women in STEM and other fields?
Innovation
What makes your project better from other applications that already exist?
Change
Our world has endless problems that need addressing. Does your project address any social, environmental or other issues?
Schedule
Our Preliminary
Schedule
All times are in Pacific Time
Saturday
| Time | Event |
| --- | --- |
| 9:00 AM | Opening Ceremony |
| 10:00 AM | Hacking Starts and Team Building |
| 1:00 PM | Hacker Hangout and Games |
| 2:00 PM | Workshop/Speaker #1 |
| 3:00 PM | Workshop/Speaker #2 |
| 5:00 PM | Workshop/Speaker #3 |
| 6:00 PM | Workshop/Speaker #4 |
| 7:00 PM | Workshop/Speaker #5 |
| 9:00 PM | 12 Hours Remaining |
Sunday
| Time | Event |
| --- | --- |
| 9:00 AM | Submissions Due |
| 10:00 AM | Judging Starts |
| 1:00 PM | Closing Awards Ceremony |
F.A.Q
Frequently Asked
Questions
What is a hackathon?

A hackathon is a 24 hour coding competition where attendees have a chance to attend workshops, win prizes, and create original projects while networking with mentors and participants. Some projects are often designed to solve real world issues like social conflicts, environmental harm, and healthcare while others focus on personal interets like video games. Hackathons are an outstanding medium to showcase your coding skills and exhibit your STEM expertise for college applications and job applications. Learn more about hackathons here.

Who can attend?

GSBHacks welcomes middle school, high school, and college students who identify as female or non-binary.

Where is GSB Hacks?

GSBHacks is 100% virtual.

How much does it cost?

This event is completely free.

What do I need?

You only need your computer, a Wi-Fi connection, and a passion for coding!

Do I need prior experience?

Not at all! All levels of programming experience are welcome. Our workshops and mentors will provide you with all the knowledge you need to know to make your own project. GSBHacks is the best place to start or continue your hackathon journey!
How big should teams be?

Teams can range from one to four people.

How do I form a team?

Ask your friends and classmates! Many people do not know about hackathons, and others who specialize in project management, graphic design, and business pitching can strengthen your team. We will also be having team formation opportunities during GSBHacks.

What can I build? Can I continue a previous project?

You can create a project based on any theme, from social good, female empowerment, games, and more. It is up to you what you want to create. Your project can be software or hardware; feel free to use different mediums like apps, websites, or more. Be creative!

While you can start brainstorming ideas for your project, you cannot start coding until GSBHacks starts.

How can I help?

Thank you for your interest in supporting GSBHacks. We have an ambassador program for women in middle school, high school and college here. If you would like to host a workshop, send judges, or sponsor us, please contact us at GSBHacks2021@gmail.com.

Do you have a code of conduct?

Yes. Our code of conduct is the same as the MLH code of conduct. Learn more here.

What if I have another question?

Clarissa Li

Logistics

Shivani Belambe

Sponsorships

Deeksha Badala

Marketing

Sania Jain

Social Media

Swetha Rajkumar

Public Relations

Sponsors

Sponsors for GSBHacks

Bronze Tier

GSBHacks is dedicated to supporting young women in STEM through hackathons, workshops, and social media. GSBHacks, you can make an impact on the next generation of coders while introducing your product to aspiring young women in STEM. If you would like to support our cause, either through sponsoring, hosting workshops, or sending judges, please email us at GSBHacks2021@gmail.com.